Former President Donald Trump announced his endorsement of Representative Mo Brooks, an Alabama Republican, in his bid for a U.S. Senate seat on Wednesday morning.
"Few Republicans have as much COURAGE and FIGHT as Alabama Congressman Mo Brooks," Trump said in an official statement. The former GOP president described Brooks as a "great Conservative Republican leader."
"Mo Brooks has my Complete and Total Endorsement for the U.S. Senate representing the Great State of Alabama. He will never let you down!" Trump said.
The Alabama congressman, 66, is running to replace retiring GOP Senator Richard Shelby, 86, for what is viewed as a safely Republican seat. Trump received more than 60 percent of Alabama's votes in 2020.
In addition to Brooks, businesswoman Lynda Blanchard—Trump's former ambassador to Slovenia—is also seeking the Republican Party's nomination in the 2022 race. Blanchard, who plans to spend some $5 million of her own fortune on the campaign, has touted her close ties with Trump. She said Wednesday that she has no plans to drop out of the race.
"I have been unwavering in my support of President Trump since the day he came down the escalator in June 2015. He is the greatest president of my lifetime, and I intend to go to Washington as the United States Senator from Alabama to represent the America First agenda that President Trump championed every day," Blanchard said in a statement, Politico reported.
Trump's endorsement of Brooks came after he told Newsmax on Tuesday that he'd begin releasing 2022 endorsements soon. "Everybody wants the endorsement and we are going to be announcing quite a few of them over the next couple of weeks. I think all of those people that we endorse are going to go on to victory," the former president said.
Brooks was one of the key members of Congress promoting Trump's baseless conspiracy theory that President Joe Biden and the Democrats somehow "rigged" or "stole" the 2020 presidential election. The Alabama congressman led the effort in the House of Representatives to object to the election results in key battleground states.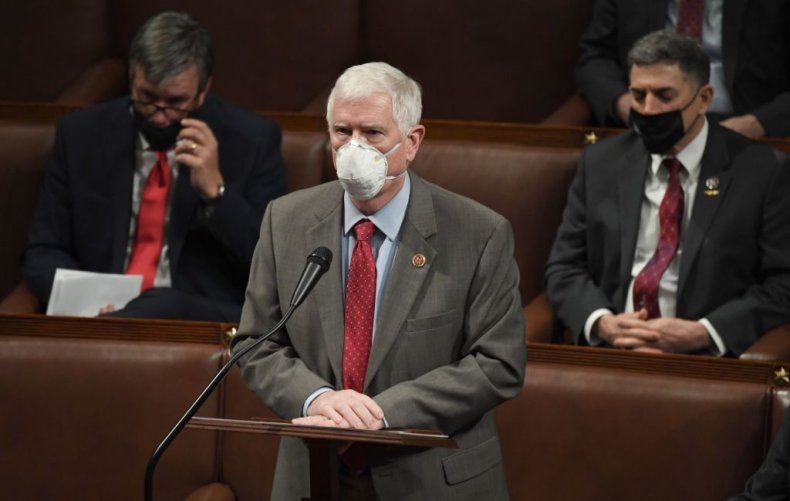 Just ahead of the January 6 attack against the U.S. Capitol by Trump's supporters, Brooks gave a fiery speech at a "Stop the Steal" rally.
"America does not need and cannot stand—cannot tolerate—any more weakling, cowering, wimpy Republican congressmen and senators who covet power and the prestige the swamp has to offer while groveling at the feet of the special interest masters," Brooks said at that event.
"Today is the day American patriots start taking down names and kicking ass," the congressman added.
Hours later, Trump's supporters did just that. Hundreds stormed the U.S. Capitol, threatening to harm or potentially kill lawmakers—including Trump's Vice President Mike Pence. Five people died in the violence that ensued. Brooks later condemned the attack, but many on Capitol Hill still view him and other GOP lawmakers promoting Trump's conspiracy theories as at least partially responsible for inciting the assault.
Although Trump and his loyalist supporters continue to claim that there was widespread voter fraud in the 2020 election, this extraordinary allegation is not supported by evidence. Dozens of election lawsuits brought by Trump and his supporters were dismissed or rejected in state in federal courts. Even judges appointed by Trump and other Republicans ruled against the former president.
In mid-November, shortly after the election was called in Biden's favor, the Cybersecurity and Infrastructure Security Agency at the Department of Homeland Security—which was led by a Trump appointee—described the 2020 election as the "most secure in American history." The federal agency asserted that "there is no evidence that any voting system deleted or lost votes, changed votes, or was in any way compromised."
In early December, former Attorney General William Barr, who was widely viewed as one of Trump's most loyal Cabinet members, said that there was "no evidence" of fraud that would change the election's outcome. Numerous audits and recounts in key battleground states also reaffirmed Biden's win.